There are many kinds of faux leathers and other materials that are generally referred to as faux leather. Most of what you can buy in crafts stores is paper thin (developed initially for book and journal covers), pebbled (usually for upholstery, bags etc.) and soft thin leather-like fabric for clothing.
All of these have a plastic layer and textile backing layer. The plastic layer is usually made of polyurethane or vinyl. Both polyurethane and vinyl by themselves cut like butter with any of the Cricut and Silhouette machines. The backing or base of the faux leather material is where the big differences come.
Faux leather kinds by base / backing types
There are non-woven, knit and woven backings. Among the non-woven you can see paper-like cellulose fibers, polyester and other synthetic fibers. What is distinctive here is that in 9 out of 10 cases materials with non-woven backing are easily cut on both Cricut and Silhouette cutting machines, even when there is a glitter layer, using regular blade.
Not so for sheets with woven and knit backing.
Knit and woven fabric backed faux leathers are tricky. The knit base is like t-shirt fabric, but I have stumbled on pieces with sweatshirt-like thick knit base with a fluffy nap, which makes it really hard for the regular blades. Woven bases are like quilting cotton and canvas. Content-wise the woven base could be of synthetic fibers or cotton, same as the knit ones.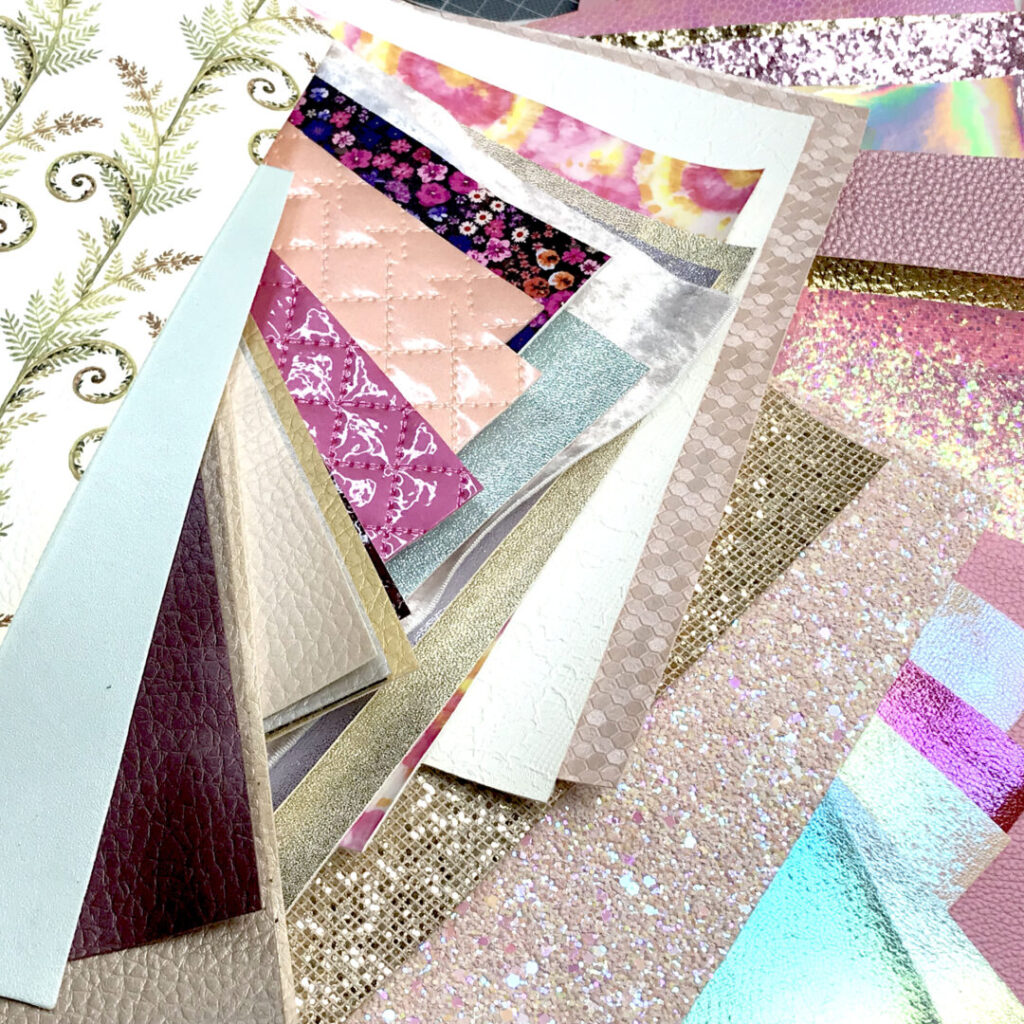 How to choose a blade to cut the faux leather on your Cricut or Silhouette?
Some synthetic knit backings are thick and fuzzy and jam your blade with fibers. I can hear the fibers snap wile cutting too and it always makes me nervous. None of these would be an issue if you use rotary blade on your machine, but not all machines have a rotary blade option and not all SVG templates are suitable to be cut with a rotary blade.
Understandably, there is no problem at all with cutting any of these faux leathers with scissors. This is one of the reasons we include printable PDF template with the rest of the files.
Canvas and thinner woven backings are lesser issue and cut fairly easy with the regular blades for cardstock. I'd cut a canvas backed sheet with rotary blade anyway, because if you have it, why sweat with the fine point or auto blade.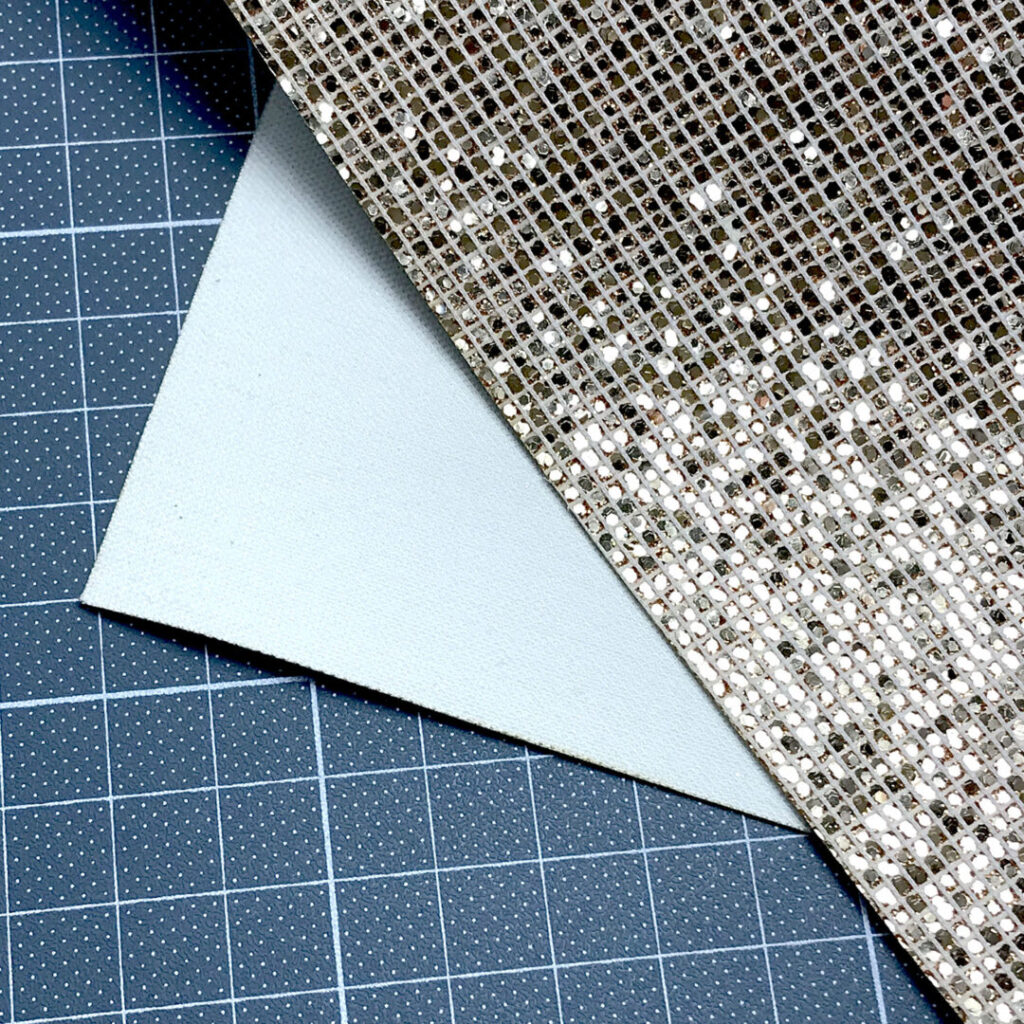 Same goes for chunky glitter, no matter the backing. If the design allows it – rotary it is. Or scissors 🙂 Recently I started using a wash-away fabric pen to draw the pattern on the machine and then cut with scissors. The chunky glitter on the photo below is a fused plastic made of glitter particles and even the scissors find it hard. No need to punish the machine with it. The backing is heavy twill too, so imagine a pair of jeans with a thick hard coat of glitter. Enough said.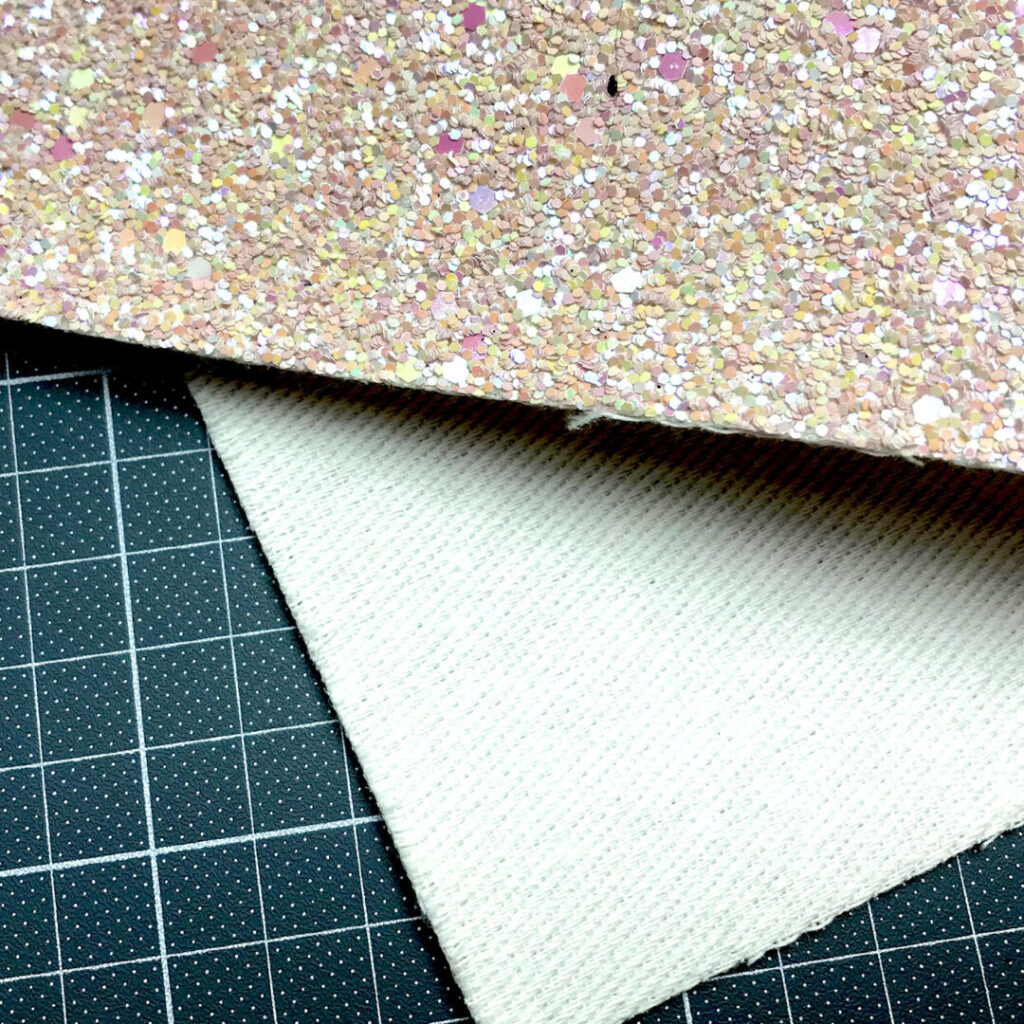 I've cut many kinds of faux leather sheets on both brands machines and using either the fine point blade or the auto blade respectively. It was a waste sometimes and a challenge for the machines.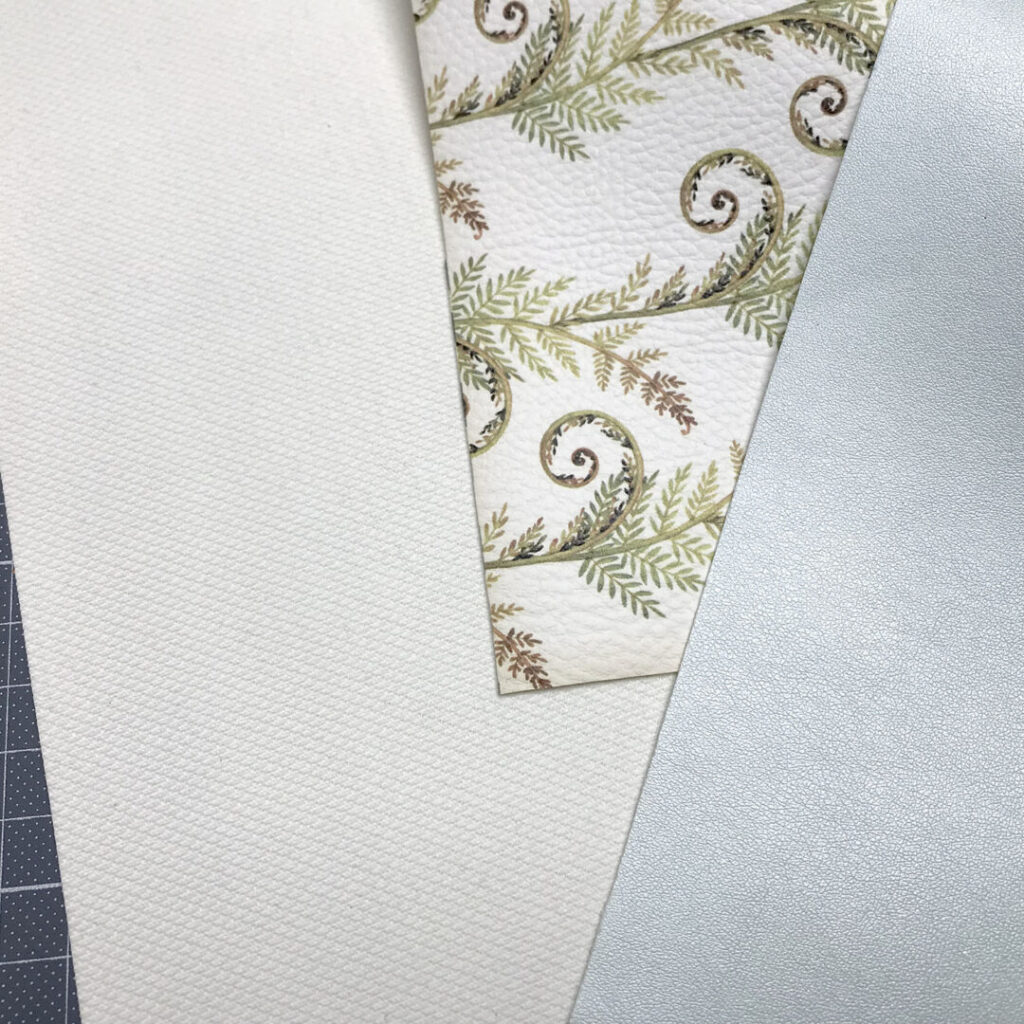 None of the machines had hard time cutting through any of the sheets with the rotary blade, but as I said – not all SVG design files are meant to be cut with it. If the design has intricate small details the rotary will ruin them and you will end with visible cross cuts. It's just how the rotary works.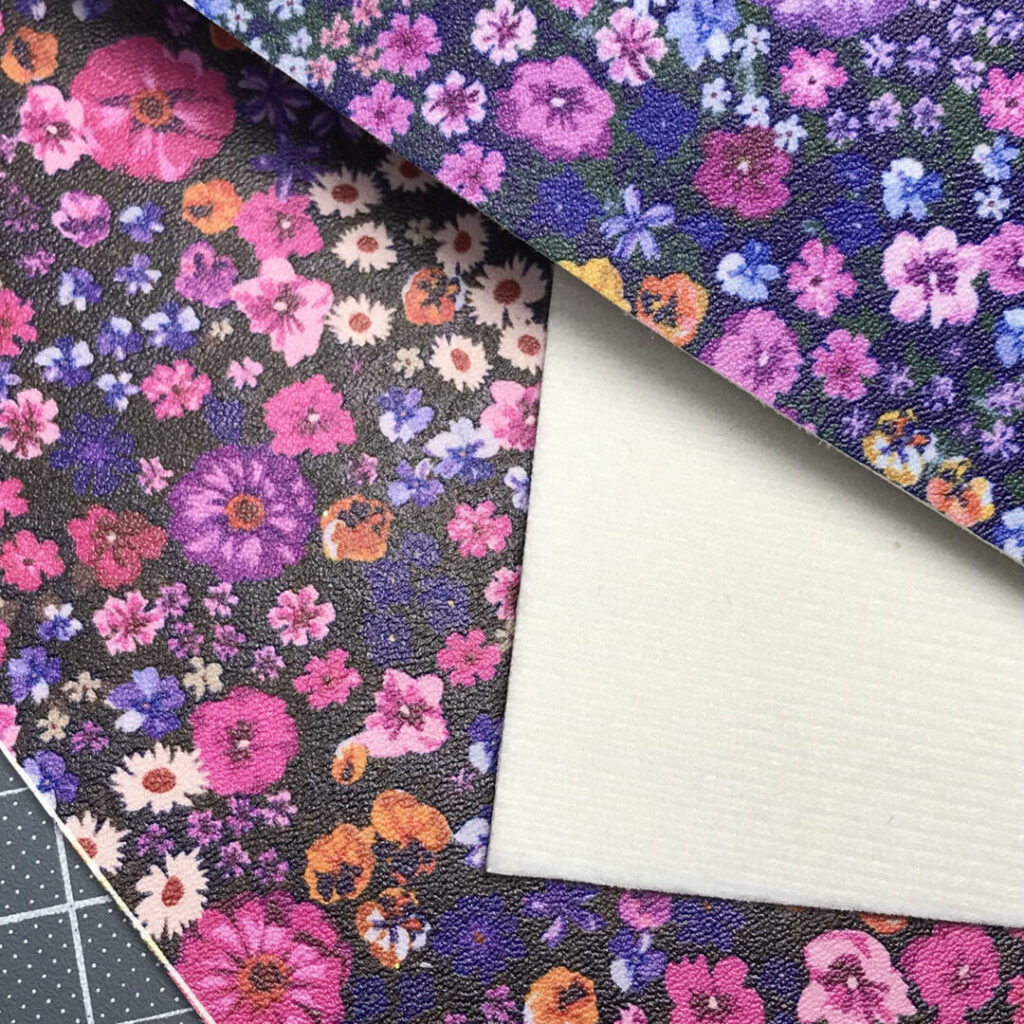 Rotary blade cutting is not appropriate when the design has narrow inward corners, like for example the tails of a hair bow. If you are cutting glitter fabric it may not show, but on a shiny patent leather there is a cross cut on each internal corner.
So you need to carefully choose the kind of faux leather for your project and the way to cut it, in order to get good results and long life for your blades.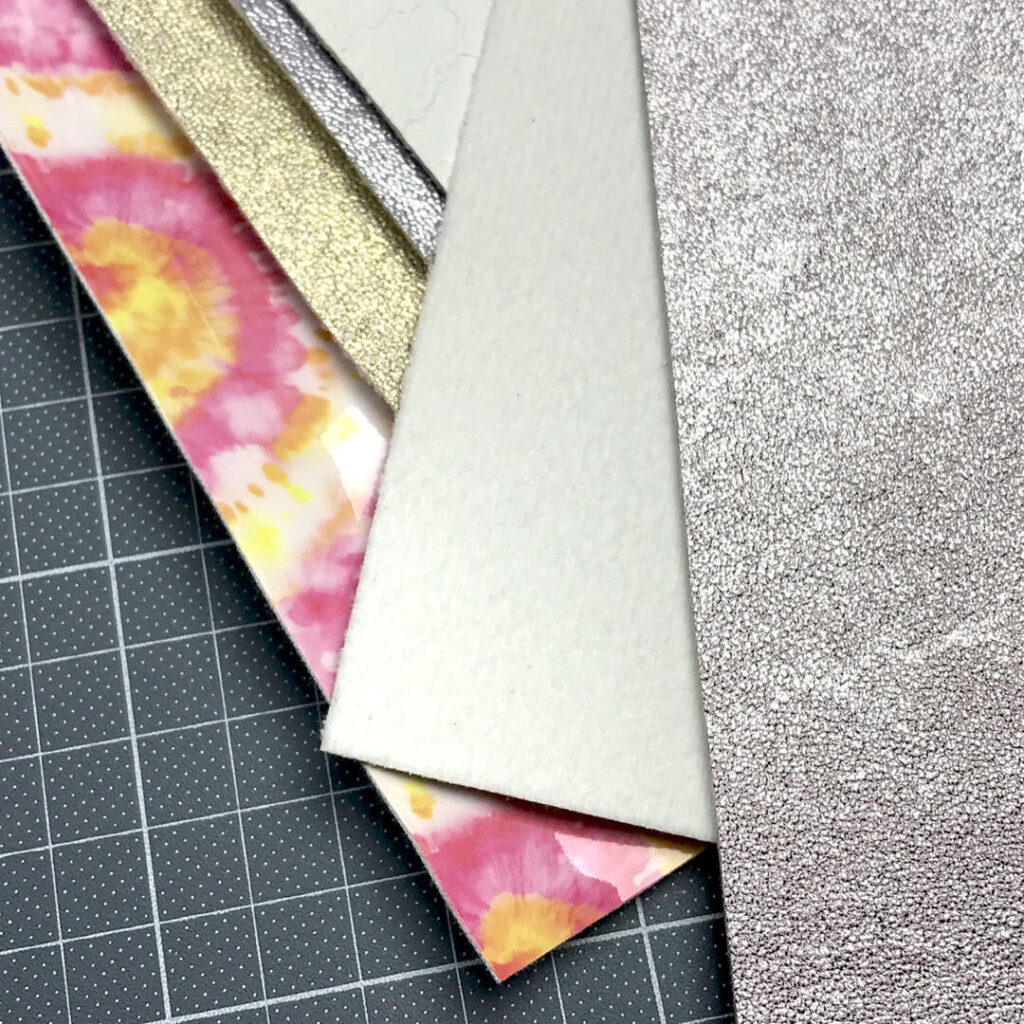 What leather should you look for?
My favorites are two – one is the pebbled faux leather with fine woven or non-woven white backing and the second is the paper thin with fine woven backing. Both cut very clean and you can cut a clean jump ring hole on an earring as small as 1 or 2 millimeters. This is my test on how a new material cuts.
These are also the two kinds that will give you the least trouble sticking to the mat. Just place them plastic side to the sticky side of the mat and add some washi tape around if the mat is not very sticky. I've cut hair bows on blue Cricut mat and had no issues whatsoever while the mat was fresh and clean.
With my Cameo 4 I've used generic standard grip mats to cut and had no problems too.
What settings to use on Cricut to cut the faux leather?
When I use the rotary blade I set it on Denim and often I choose LESS if the leather is not too thick and rubbery.
When using the fine point blade I usually go with one pass of light cardstock or medium cardstock and it is enough. I noticed on leathers with woven or difficult bases light cardstock setting run twice gives me a super clean cut. It is because the blade doesn't rip the threads, but cuts them in small portions. UPDATE: Instead of going twice I just made a custom profile for my Maker and named it "Faux Leather" it goes twice at 165. That saves me time.
The fine point blade settings should be valid for the Cricut Explore Air too.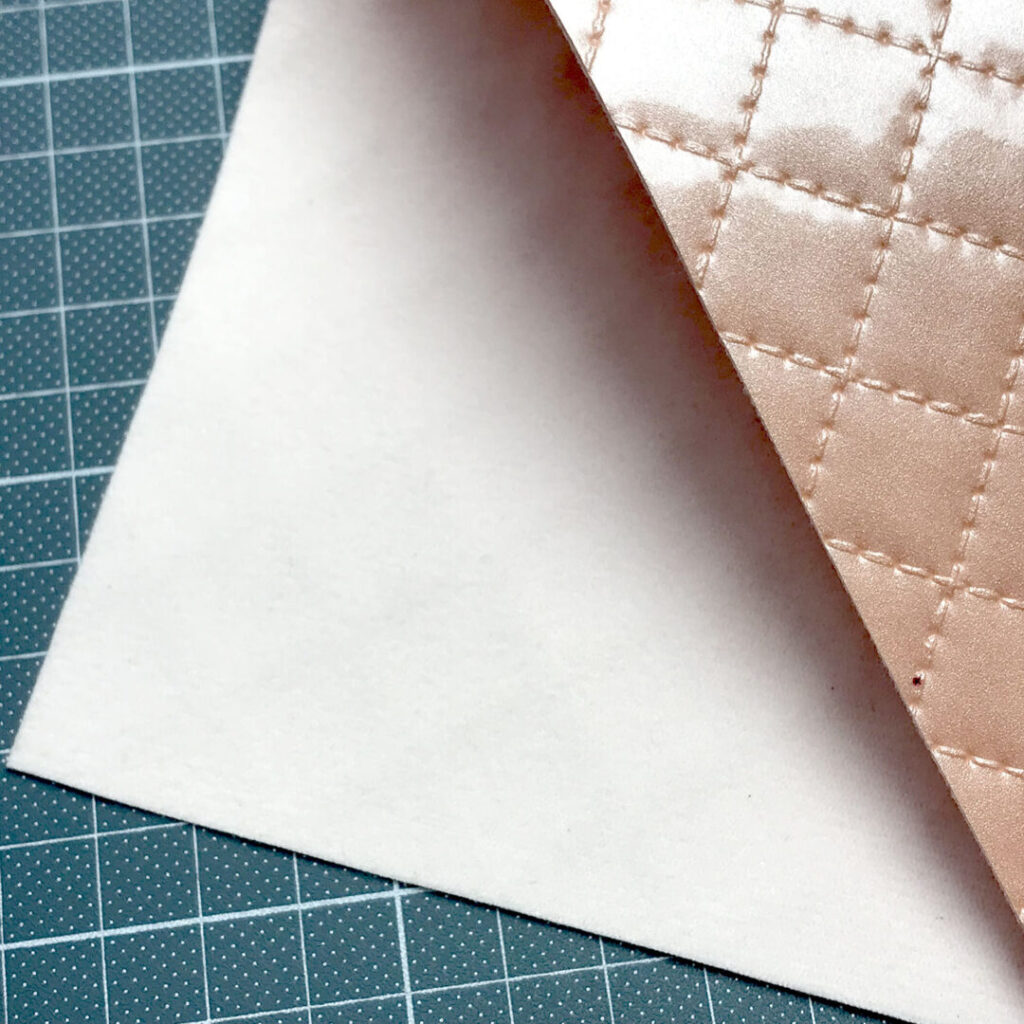 What settings to use on the Silhouette Cameo?
I use the same settings I use to cut cardstock. On the Cameo 2 I've used the Ratchet blade and on the Cameo 4 usually I use the autoblade at depth of 10. I get cleaner cut with two passes at lighter force like 12-16 and low speed at 1 or 2. I also check the Line Segment Overcut.
I rarely use the rotary on my Cameo 4, because it wastes too much material even when I turn the Smart Cut off, but I've tested extensively on many materials before I got the second machine. It cuts through all the faux leathers the same as the Cricut Maker. I just don't like to waste the leathers that I have to order from abroad and wait for ages to get to me. I love the control over speed though!
Final notes
Remember that if the design you're cutting has small details like holes and inner corners, the rotary blade is not a good idea. The holes will end up being shredded and the corners – cross cut. This is valid for both Cricut Maker and Silhouette Cameo 4.
Faux leather is a versatile and fun material to use in your crafting or to make handmade products for your small business. Make sure to test each new material you buy and don't stock on it before you are sure it behaves well 🙂 Test, cut various designs and test again.
Don't forget to test how it holds with glue. Many of the sheets are cut from yardage that is produced for manufacturing of clothing, upholstery or accessories like bags, wallets etc. These faux leathers are treated with a stain and dirt repellent and have a thin film layer that could repel the glue. You can check here what my experience with a variety of glue types is.
[ms-form id=1]